From time to time I will indulge my heritage and make kolaches and klobasniks. For the uninitiated, kolaches are sweet, klobasniks are meat. There is also a cabbage variant but we do not speak of that one. When I bake kolaches I use a scratch dough based on recipes usually found in church recipe pamphlets with barely decipherable annotations in the margins. This dough can also be used with klobasniks as well but making this dough is an all day affair. When all I want are sausage klobasniks I will usually fall back on my "cheater" dough, frozen dinner rolls. Caveat: spellings of klobasnik vary from Czech to Polish to Slovak and even from region to region. I spell the way I want but feel free to mentally substitute your own version. However if you call them pigs in a blanket please keep it to yourself. While I will not judge you publicly, I will be judging you seven ways to Sunday privately. 🙂
I use Rhodes frozen dinner rolls usually found in a 36 count package.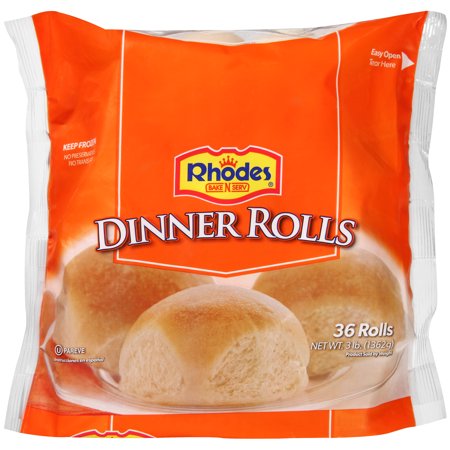 These are small rounds of frozen dough. Do not use the frozen rolls that are already baked. While those are good for sliders they are terrible for klobasniks. They should look like these: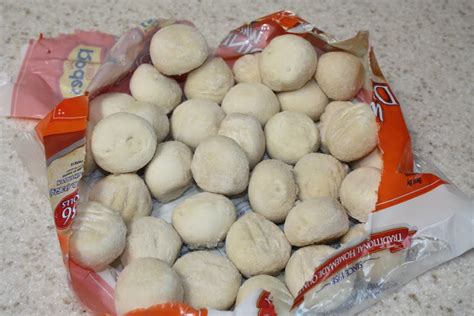 I will lay these out on a piece of parchment paper on a sturdy baking tray, one dozen per sheet. Let rise for 2.5 to 3 hours. Cover the rising dough with a cloth. Depending on the weather you may want to spray dough lightly with a nonstick cooking spray. Guard cat is optional.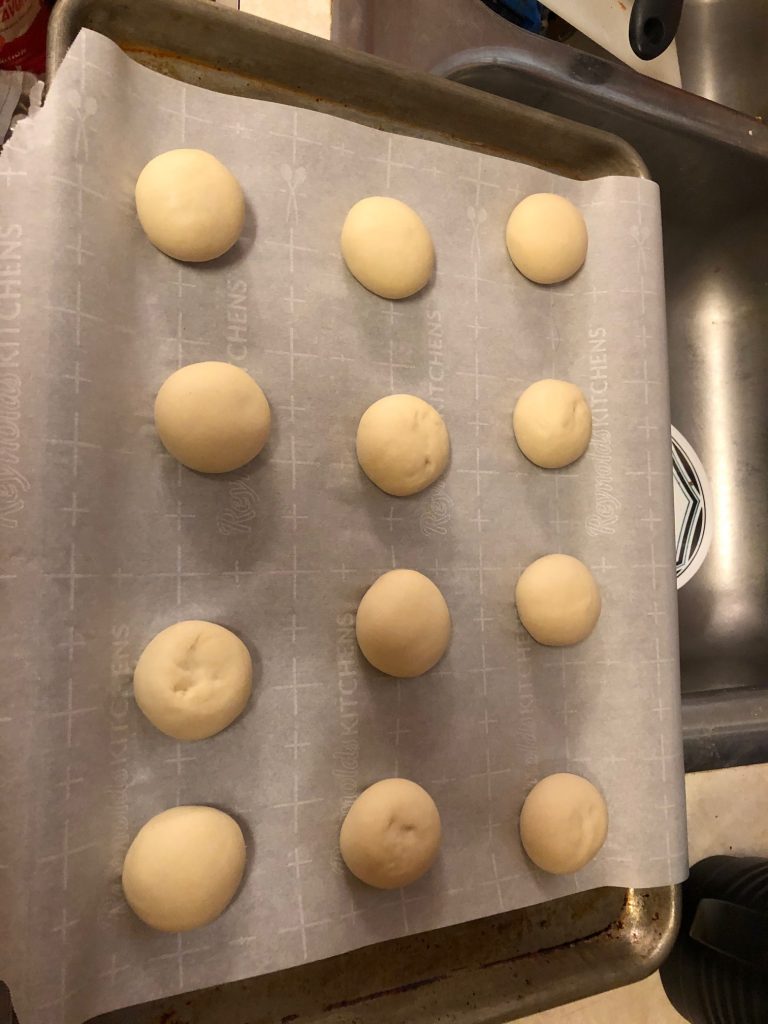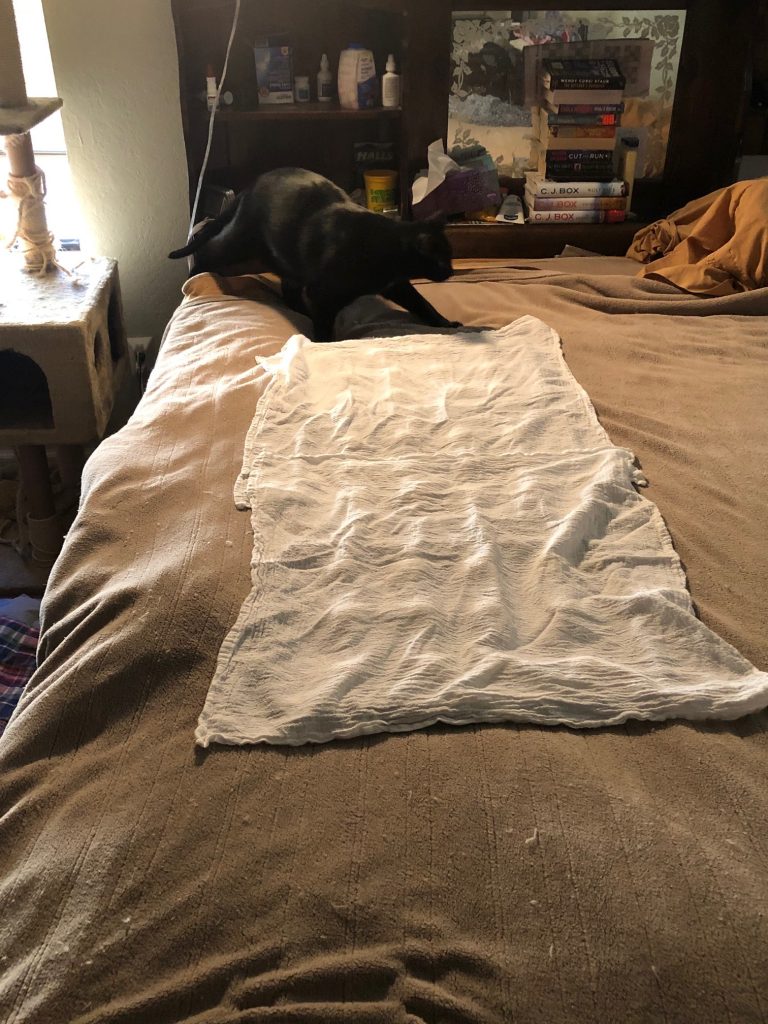 For filling you can have your choice of meats. I usually prefer a Polish Kielbasa which has a nice garlic/black pepper flavor. Basically any type of sausage will do. Jalapeño, cheese, beef, pork, whatever suits your taste buds. My Dallas kid likes an Eckridge brand so that is what is pictured here. I still add garlic and black pepper cuz what does he know. Whether you cut your links in half or use them whole depends on your preference to meat to dough ratio.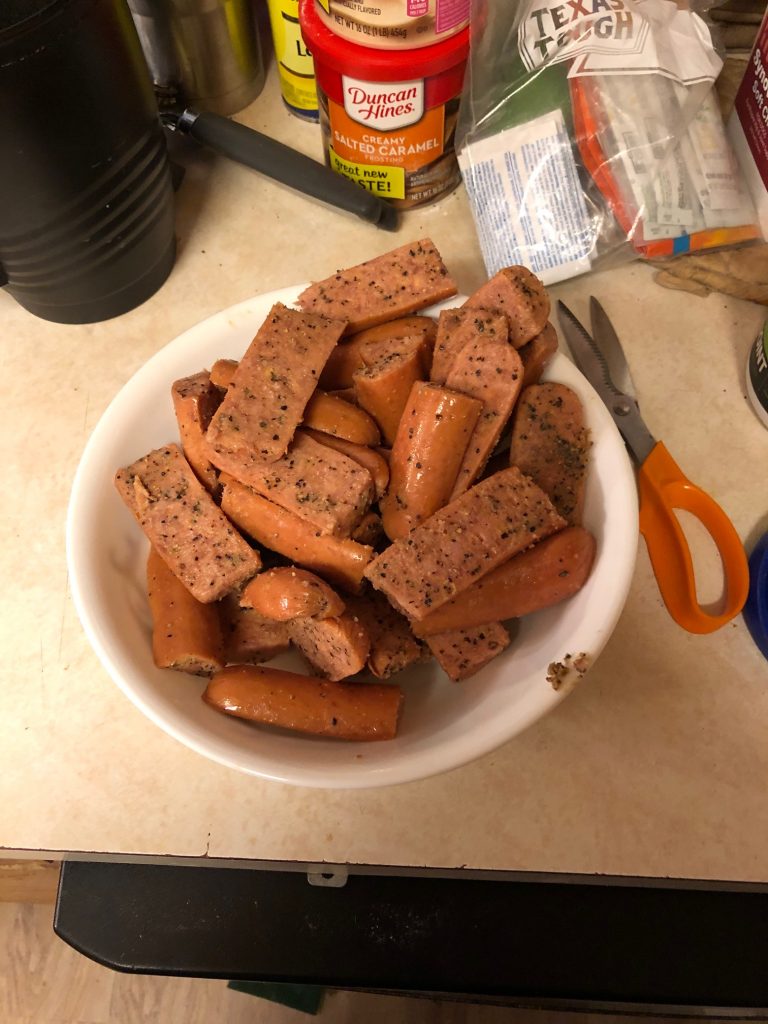 Start by stretching the dough ball into a flat circle about the size of your palm.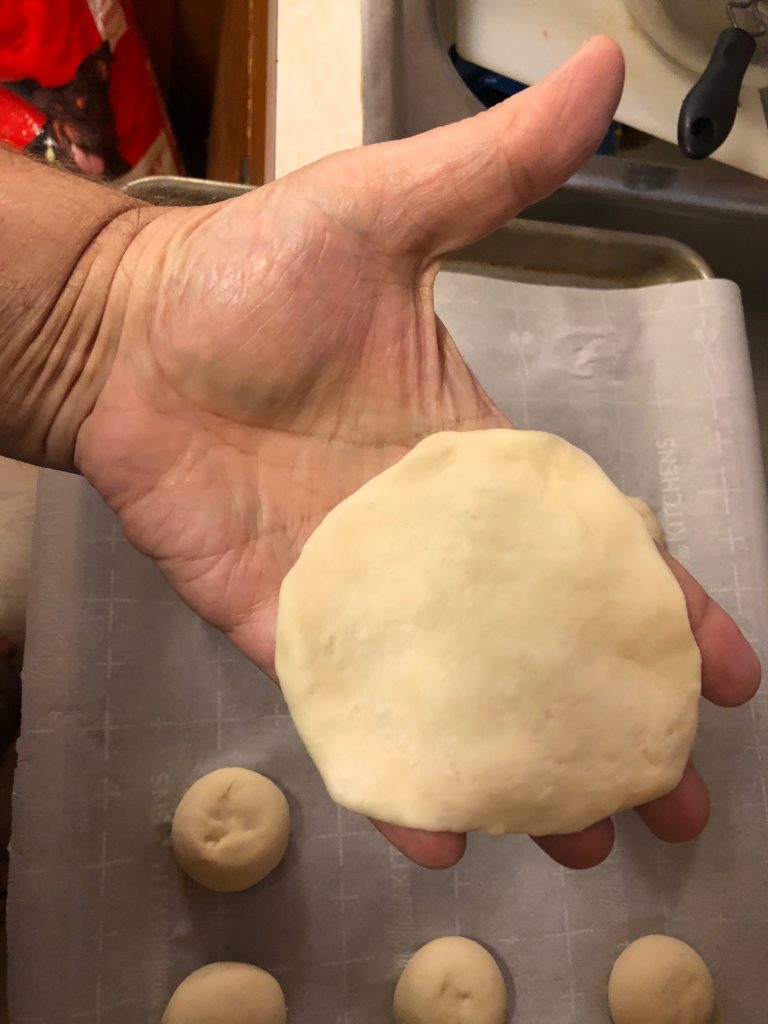 Place your sausage in the middle and tuck the sides over, giving it a good squeeze to seal. It helps to have the sausage at room temperature and try to keep your finger tips free of grease. Place the sealed roll seam side down on the parchment paper.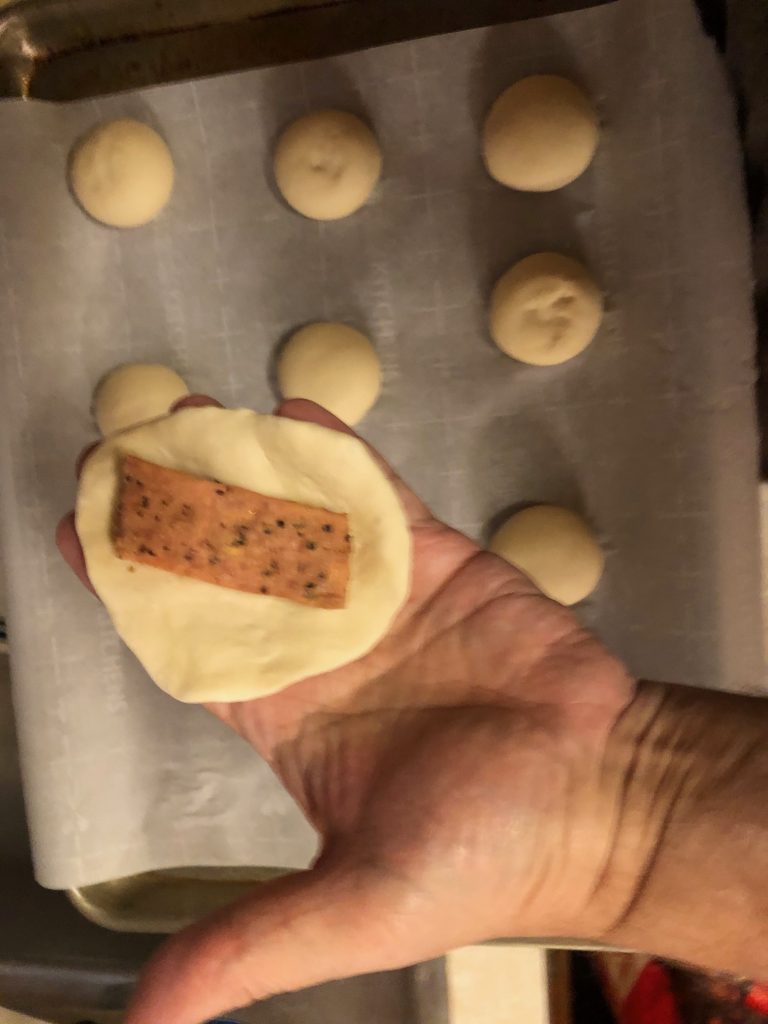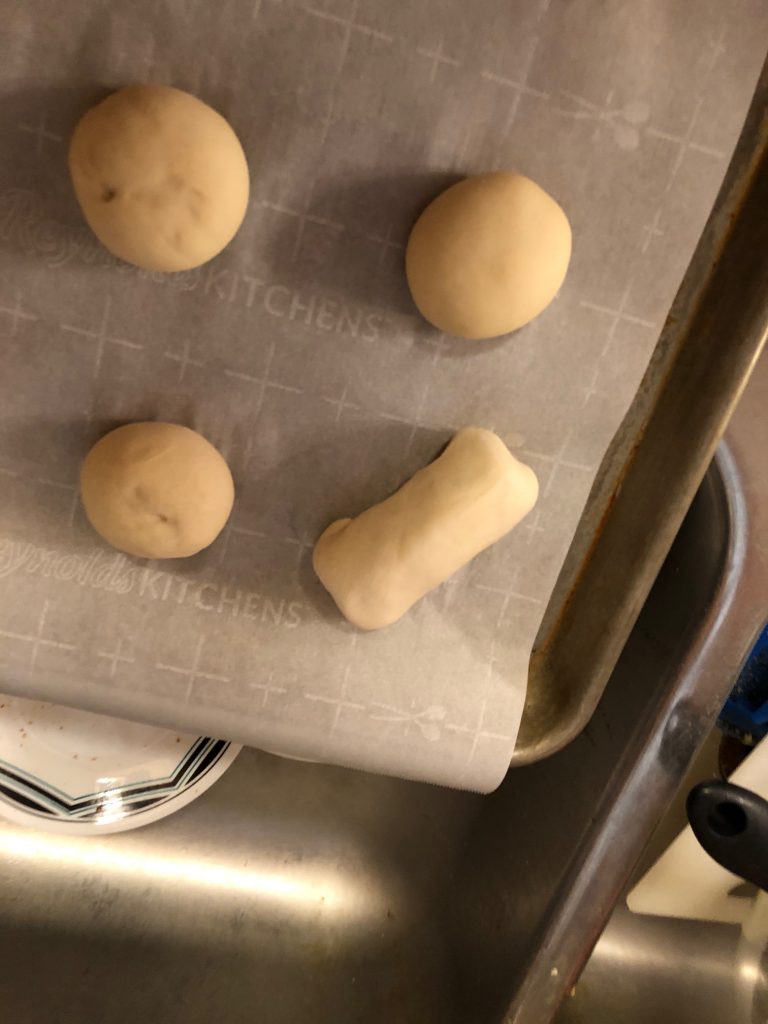 Coat each roll with margarine/butter.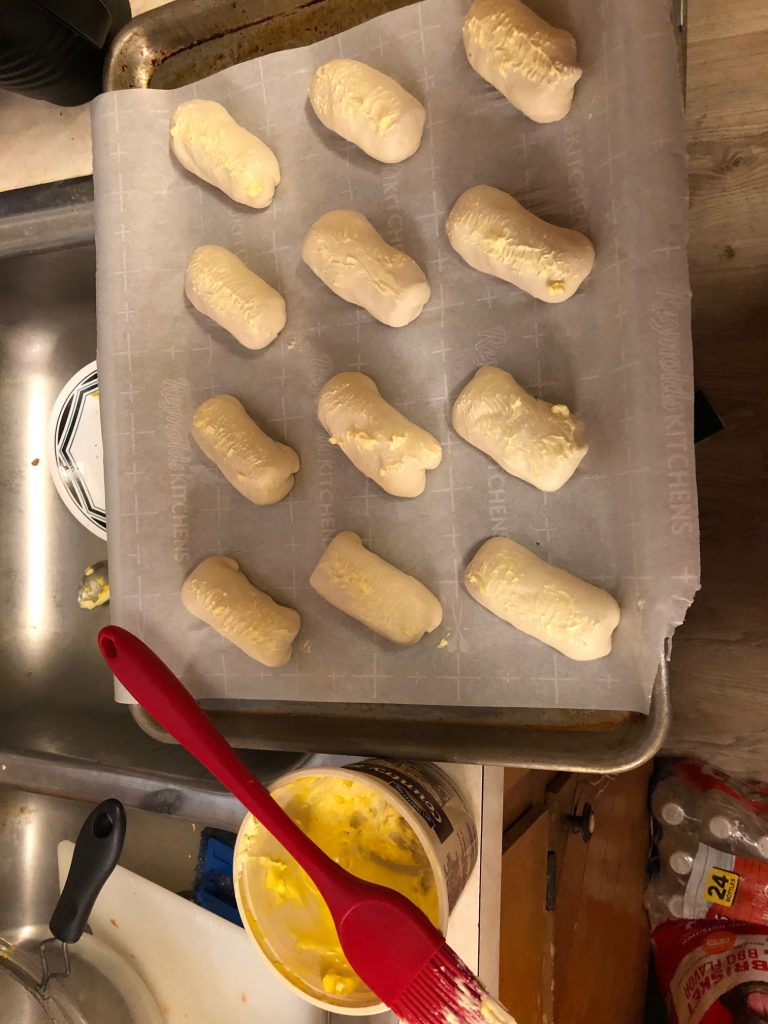 Bake at 350 degrees until a nice golden color is achieved. Baking times ranges from 20 to 30 minutes based on your oven, the weather, and your elevation. My oven usually takes 29 minutes, my Moose Lake son's takes barely over 20.
When done brush immediately with margarine or butter.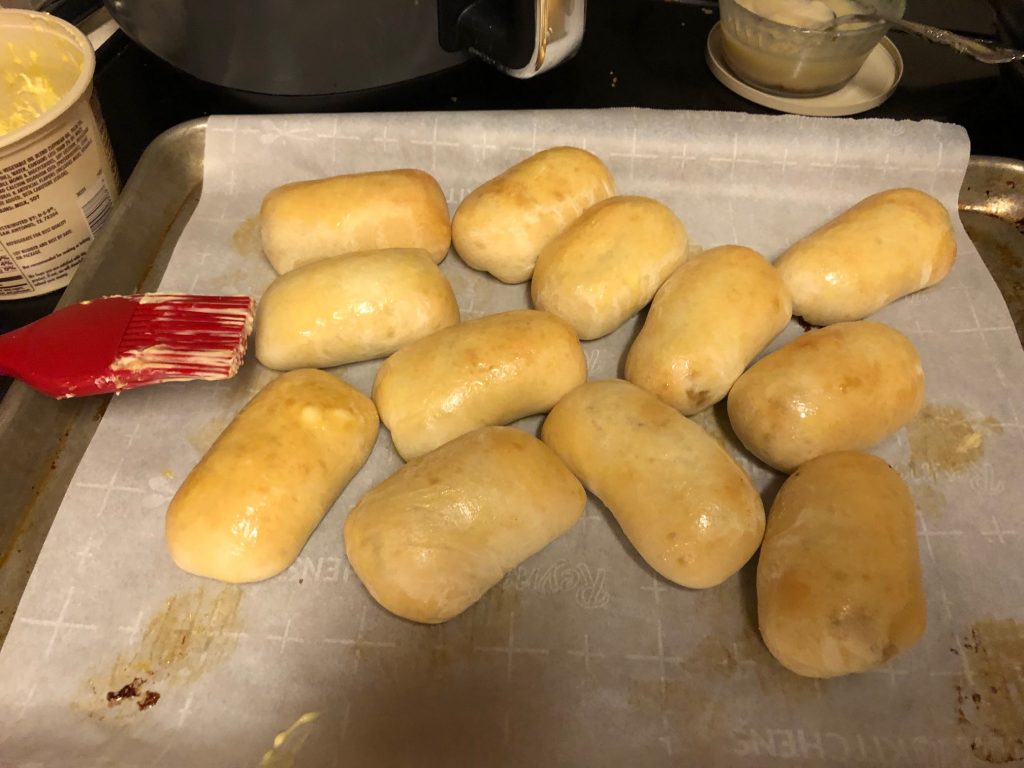 Remove to a platter to cool.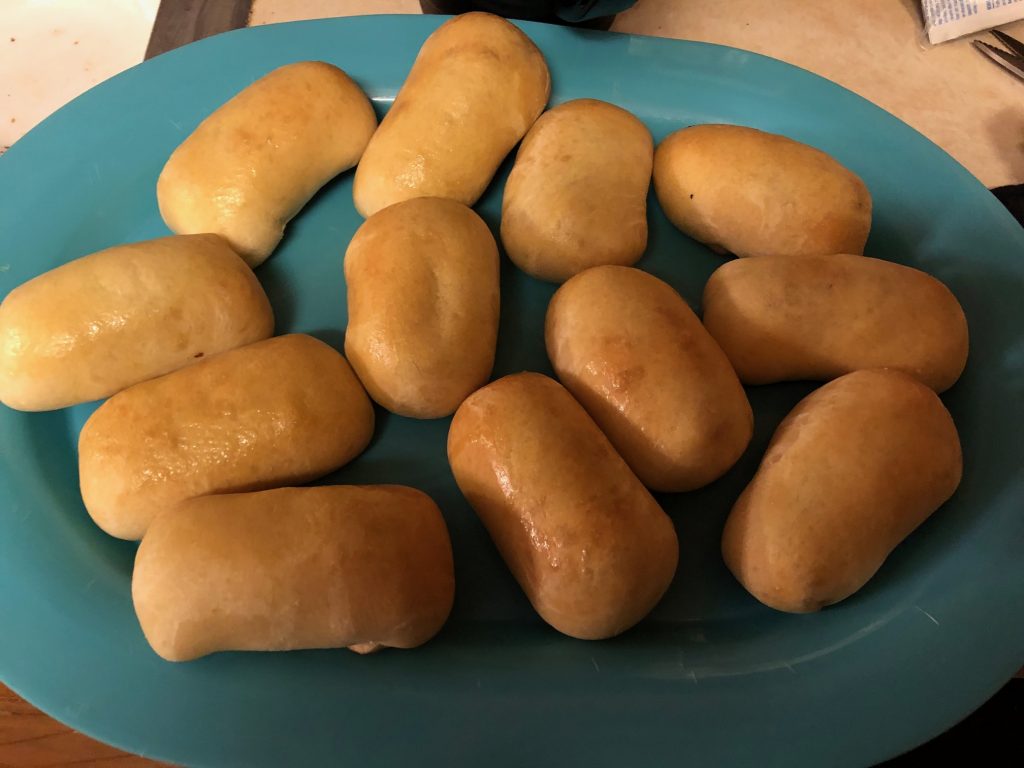 I will bag but not seal the klobasniks when cool. I leave them out the first night, moving them to the fridge the next day for longer term storage.
I have tried making kolaches with this dough and failed miserably. The dough continues to rise in the oven and the fruit filling slides right off. Sometime in the near future I will document my made from scratch dough for doing the fruit filled ones.